If you have been looking for the best deals on chocolate and are tired of paying more for the chocolates, Aldi is the place to shop! You might be pleasantly surprised by the quality of their chocolates, too.
As a chocolate lover and one who is always on the hunt for the best deals, then consider Aldi. In this article, We will discuss Aldi chocolate's price range, brands, quality, and much more.
Does Aldi Sell Good Quality Chocolates?
Aldi is a grocery store that focuses on quality over quantity. This means that their products are usually cheaper than those at other stores.
What Are The Best Brands or Types of Chocolate to Buy at Aldi Store?
There are many different brands and types of chocolate at Aldi, so it's important to choose one that you like. Some of my favorites include M&M's, Lindt, Godiva, Ghirardelli, and Nestle. Just make sure that you read the labels before buying so you know how much sugar is in each piece.
Choceur Chocolate
The company produces Choceur European-style chocolate that can be found in Aldi stores. American chocolate is usually sweeter than European varieties.
Dark chocolate coconut or milk chocolate sea salt caramel almonds for $4 in 10 ounces are a perfect combination of rich flavors, something that is perfect for everyone.
Mini chocolate bars with a creamy and crunchy center are now available for just $2 in 7 ounces.
There are four flavors: Dark Hazelnut Crisp, Milk Crème, and Strawberry Yogurt. With their white chocolate coverings and shortbread biscuit centers, these resemble Twix bars.
A straightforward dark chocolate bar for $1 – 3 in 5 ounces without or with almonds, shaped into breakable sections.
Dark or Milk Chocolate Covered Almonds for $4 in 11 ounces.; The easier way to enjoy chocolate covered almonds, with just two flavors and a simpler mouth-feel.
These individually wrapped, chocolate filled treats are great to help people eat just one or two each in a sitting. The three different flavors are dark chocolate, milk chocolate, and caramel for $3-5 in 8 ounces.
The milk chocolate version of the flagship product of the Wholesome Junkies is $1-2 for 5 ounces. Making it less expensive than a basic Hershey's bar.
"Peanut Butter Cups" are now available for $3 per 12-ounce bag.
Moser Roth Chocolate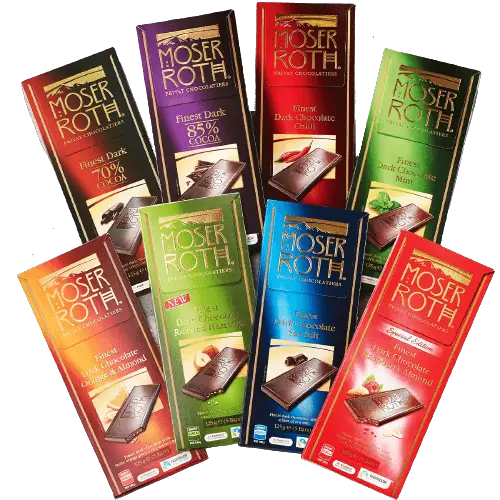 Moser Roth has limited the selection of chocolate bars, and they are comparable to the quality of Ghirardelli chocolate.
Chocolate bars for $2 in a four-ounce bar, with flavors like Dark Chili or Orange & Almond. These chocolates taste great on their own.
Dark Collection Cocoa or Sea Salt Caramel sells for $2.00 and is made of good quality chocolate, making it perfect if you like your chocolate dark, bitter and complex.
Dark Sea Salt, Milk, or Toffee Crunch Chocolate Bars are only $2.00 for a 4 oz. chocolate bar with three interesting flavors to choose from.
Family-sized and tastefully packaged, these Luxurious European Chocolate Truffles for $4 in 7 ounces are fun or functional gifts for anyone on your list.
Checking ALDI's Store Hours before buying chocolate can save you time & hassle.
Aldi Is Everyone's Favorite
The Aldi label Specially Selected carries a line of quality food items that includes chocolate. Your taste buds are brought back to the times when you would get excited about fresh new specialty chocolates.
The Dark Chocolate Covered Sea Salt Caramels are $3 for ten ounces. For a momentous price, you get a luxuriously delicious treat.
Aldi's Brand Names Worth Knowing
For shoppers who want to enjoy Hershey's milk chocolate on the cheap, Aldi carries a six-pack of 9 oz. Hershey's milk chocolate pack for $3-$4 cents.
Milk Chocolate and Peanut Butter are Delicious for $3 – $4 in ten ounces.
Snickers Fun Size is the sweet deal for $3 – $4 in ten ounces.
Schogetten Personal Ice Cream varieties for $1-2 in three ounces.
Benefits of Buying Chocolates from Aldi
Looking for good chocolate options, Aldi is a great place to start.
Consider buying larger quantities of some of Aldi's more popular chocolate brands, like Lindt or Hershey's.
These brands will usually go fast. Be sure to browse the selection of chocolate bars and candies in the candy section. This section has options that range from classic favorites like Snickers pack to unique chocolates with interesting flavors (like salted caramel).
Is Aldi's chocolate Cheaper Than Any Other Stores?
Aldi is something where you can buy pocket-friendly and quality chocolates without any doubt. Aldi always has the best-value chocolates around, making it a great place to buy chocolate for special occasions or for stocking up on treats for yourself or loved ones.
Let's compare price-per-ounce when necessary.
At Walmart, Ghirardelli Squares sell for 77.9 cents per ounce, whereas Aldi's Moser Roth pack sells for 45 cents per ounce; that is a substantial difference!
Aldi brand chocolate is affordable with high quality, every time
Here's what to look for when comparing Aldi chocolate
With a variety of chocolate brands and flavors, Aldi offers great choices for everyone. The 70% Dark chocolate is a must-try, especially for dark chocolate fans. It tastes like a million bucks, but it's only $2!
If you prefer your chocolate to be on the thicker, sweeter side and want some peanut butter in there, consider checking out the Peanut Butter cups.
Is Aldi Chocolate Perfect for Special Treats on Occasions or Gifting?
If you're looking for a special treat for your sweetie pie, we recommend checking out one of Aldi's specialty chocolate bars. These often have unique flavors and are perfect for celebrating a special occasion or just indulging in something sweet.
Aldi carries brands like Moser Roth and Choceur, which are also available through the Aldi Specially Selected label. The other name brands they carry include M&M's and Hershey's seasonally. Customers can also find seasonal chocolate, both store brand, and name brand, around holidays like Christmas and Halloween during the year.
Aldi Chocolate Buying Guides and Tips
Searching for affordable chocolates, Aldi is your go-to store. Here's what you need to know about shopping at Aldi and the best chocolate brands to buy there.
First, check the weekly ad to see what's on sale. You can also use Aldi's app to scan items as you walk through the store.
Skip the produce section and head straight for the dairy section. Great place to find cheap chocolate.
Check out the discounted boxed chocolates and bars in the baking section. These are excellent deals for chocolate that won't break the bank.
How to Buy Chocolates at Aldi?
Here are some tips on how to shop at Aldi and get the most out of your chocolate experience:
First, know what kinds of chocolate you want. There are tons of different brands and types to choose from at Aldi, so make sure to have a general idea before you go.
Then, determine how much you want to spend. Individual pieces or packets of chocolate are available at the majority of Aldi locations.
Lastly, proceed to the payment! The Aldi staff is always glad to help you find the ideal chocolate for your requirements, and they'll even make some suggestions based on what you've previously purchased.
What is The Price of Chocolates at Aldi
Chocolate rates at Aldi differ based on the brand and quantity. According to Aldi's website, the shops sell approximately 20-21 Everyday Chocolate items under there own respective brands.
Aldi sells several distinct Everyday Chocolate brands in-store and online, with prices varying from $1 to $3. More information about Aldi's chocolate assortment can be found here, as well as a price chart.
What Is The Best Thing About Buying Chocolate from Aldi?
Aldi is a famous grocery store company where consumers can find low-cost food. Aldi carries a number of chocolate labels that are ideal for those looking for high-quality chocolate without breaking the bank.
Customer's Reviews of Aldi Chocolate
Customers usually enjoy the excellence of these names, which they compare to more expensive chocolate brands.
Baker's Chocolate: This is a traditional strong brand that many customers suggest.
Milka is a well-known name for its chocolate bars and milk candies. They cost about $1-3 per cookie and are among the most famous Aldi items.
Swiss chocolate: This Swiss chocolate brand is not as cheap as some of the other brands, but it is still a good value. A single piece can cost between $1-3.
For good quality chocolate that you can afford, the Aldi store is a great option.
How Does a Country of Origin Affect Chocolate Flavors?
Europe has an interesting take on cultural preferences with its dark chocolate heavy flavor profiles, while American brands focus more heavily on sweeter tastes.
Dark Chocolate and Milk Chocolate are popular combinations because they're both high in quality. These chocolate bars are a tiny and convenient treat made with crushed hazelnuts.
Why Aldi Chocolate Might Not Be As Expensive As You Think?
Aldi chocolate has German roots Rather than manufacturing their own candy. The Moser Roth label is only made for Aldi products and can't be found anywhere else.
In Sum up
The store's candy selection, led by its brand names like Moser Roth and Choceur, includes candy bars, peanut butter cups, chocolate covered nuts, and more. Aldi successfully keeps the prices low on their sweets, but often the quality is superior to most with some items becoming favorites.